Welcome to the Loup Valley 4-H Horse Conference Club!

The Conference is dedicated to bringing fun, family friendly horse shows to Nebraska 4-H youth!
2018 OPEN Scholarship Show

Sunday, September 16th, Merrick County Fairgrounds Indoor Arena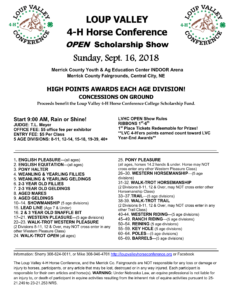 WIN the FARRIER'S GARDEN BENCH!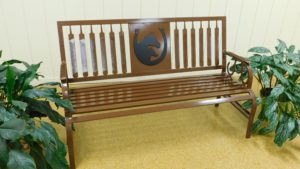 Win the Farrier's Garden Bench! Tickets are a $10.00 donation per ticket, or 6 tickets for $50. Tickets are available from Loup Valley 4-H Horse Conference Club members, or you can purchase raffle tickets at all of the shows, and at other locations. Last chance to purchase tickets will be at the OPEN Scholarship show September 16th in Central City, Merrick County Fairgrounds with the drawing held later that day!
SPONSORSHIPS AVAILABLE!
Interested in becoming a 2018 Sponsor? Contact anyone within the Loup Valley 4-H Horse Conference, or call Sr. President, Sherry Siwinski 308-624-0011, or email Sherry siwinski@hamilton.net

CONGRATULATIONS to our 2017 High-Point Award Winners

L-R Reserve Senior–Amber Staab, Champion Jr.–Gretchen Geweke, Reserve Jr.–Ali Dugan, Champion Senior–Natalie Gydesen, Reserve Intermediate–Marlie Mundt. Not pictured, Intermediate Champion–Olivia Klug
CONGRATULATIONS to our 2018 Jr. Officers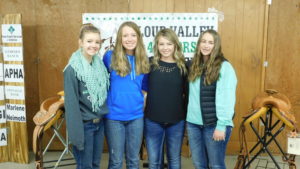 L-R Amanda Baker, Taylor Nall, Natalie Gydesen, Amber Stabb

Thank you to our 2018 Sponsors!
CHAMPION SPONSORS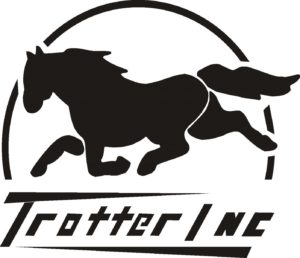 RESERVE CHAMPION SPONSORS

GOLD SPONSORS
Siebrandt Training
Gydesen Ranch
Stobbe Grinding
Aurora Coop
Jacobs
FRIENDS OF SPONSORS
Robert & Nancy Wood
St. Paul Coop